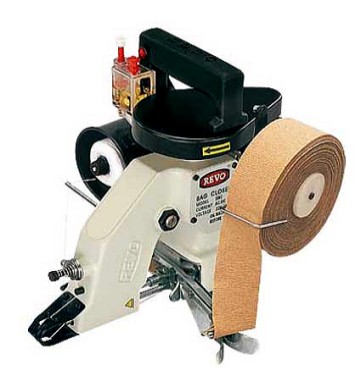 Use of crepe tape provides double benefits of strong bag closing protection and visual appeal. RevoŽ DAC helps produce perfect tape bound closures in one operation and allows for precise tails at both the leading and trailing edge of the bag for an attractive and better sealed closure.
RevoŽ DAC comes with attachments for binding an attractive two inch wide crepe tape over the bag top. The lightweight three-part attachment features a Tape Holder, Tape Folder and Tape Cutter that allows the operator to sew 'stitch through tape' for a strong, attractive closure. The machine is completely portable or can be suspended using the Suspension Unit (See Accessories). The attachments can be quickly and easily removed when crepe taping is not required, reverting back to a regular single thread chain-stitch bag closer.



SEWING SPEED
Efficient production: Maximum sewing speed 1700rpm

STITCH LENGTH
3.5 stitches/inch (25.4mm) Fixed

CUTTER TYPE
Mechanical

NEEDLE TYPE
DB X 1 Size 200

POWER
AC Motor: 1/10 Hp 8000 rpm 220V, 1.3 amps

WEIGHT
6 kg.

TYPE OF STITCH
Single thread/chain stitch

CLOSING-SPEED
5 - 8 sec/bag, 39 fpm at 3.5 stitches/inch (25.4mm)

LUBRICANT
For extended lubrication, use SAE 30 Oil

CREPE PAPER Part No. CA-90
Roll is 165ft x 2"