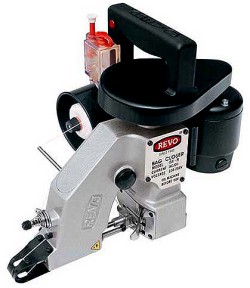 Model C89-1DA
The NEW NAME in QUALITY BAG STITCHERS, now here in the UK. £259 + vat
REVO® have been building Portable Bag Stitchers and Bag Closing equipment for over 50 years. Now we have them here. A real alternative to High Priced Japanese and American Machines.
CHECK OUT the Competition for Price and Quality, then call us for a 'no-nonsense' price.
This machine will give you years of Service at a price which is hard to beat.
Single Thread, Single Needle Machine forms Type 101 Chainstitch which is very strong, yet easily opened by the 'End-User'.
CAN CLOSE all types of Bags and Sacks in Paper, Jute, PVC, Polypropylene, Hessian & Jute.
CLOSES Bales and Bundles.
ALSO USED to Join Fabric Rolls together before processing as in Dyeing and Printing works, Joins Roller Towels together before washing in Laundries, Joins Membrane Pieces together for Waterproofing in ARENA's and countless other applications where joins have to be made in a confined space.
CREPE PAPER TAPING FOR REVO C89-1DA-R
Available from us is the REVO® C89-1DAC CREPE PAPER TAPING Machine. Paper Taping of the Bag eliminates leakage after weighing, especially with fine powders and Flour.


The REVO® C89-1DA-R is supplied with the Crepe Tape Holder, Folder, Special Needle

Plate for Taping and a Rear Cutter to give a clean finish to the Bag. Can be removed to allow normal use of the machine. Please click on an image for a more detailed view of the machine and the attachments.
CA-90 Crepe Paper Rolls 165' x 2" Always
IN STOCK
Quality at a Great Price. £259 + vat


Single Thread Type 101 Stitch
Come and see the new C89-1DA before purchasing your new Portable Bagstitcher. Well built and designed to work. This is the machine of the future.
Simple operation, easy maintenance and realistically priced replacement and service parts.


Built In Thread Trimmer Cuts the Thread Chain at the end of each sack or bag allowing up to 150 bags per hour to be closed easily.
Automatic Pump Oil System ensures all parts receive correct Lubrication & internal felts maintain the lubrication of contact parts thus extending service life.
Power On Indicator in Handle lets you know when the machine is connected to the supply.


Available 240volt & 110volt Standard 240 voltage for everyday use & 110v for use where water is present as in laundries and dyeing and bleaching plants .
High Operating Speed of 1700 r.p.m. 1700 stitches per minute means high productivity. Closes 100+ Bags per hour.
Weighs In at just 5kg (flyweight), so continuous use is easy. Also available is the A962 Spring Balance and the A947 Hanging Hook to prevent operator fatigue.

Uses SCHMETZ or GROZ BECKERT Needle System 1738-200 which are available from us singly, in packs of 10 or in boxes of 100.
A945 Bag Stitcher Thread is also available from us in both Standard and Food Grade (M).
No quantity is too small. 6 cones or 6 tonnes -
NO PROBLEM !